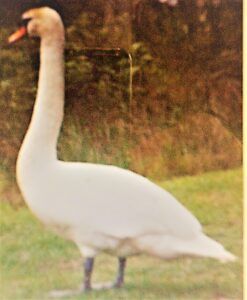 I suspect some of you are wondering (if you can see the picture of the swan) why that particular picture? Well I suppose like many of you I am reminded of the phrase "Swan song". The swan song is a metaphorical phrase for a final gesture, effort, or performance given just before death or retirement. The phrase refers to an ancient belief that swans sing a beautiful song just before their death since they have been silent for most of their lifetime (Wikipedia). There are several stories about how this story made its way into our language, my favourite is an ancient one.
A certain rich man bought in the market a Goose and a Swan. He fed the one for his table and kept the other for the sake of its song. When the time came for killing the Goose, the cook went to get him at night, when it was dark, and he was not able to distinguish one bird from the other. By mistake he caught the Swan instead of the Goose. The Swan, threatened with death, burst forth into song and thus made himself known by his voice, and preserved his life by his melody.
It is said there is no truth in the idea that a swan will sing just before its death but the phrase still is used for that final act. My hope and prayer is that the Gospel message you have heard will be shared by everyone of you, not just as a final act but as a daily offering to the Lord. As to what will be my final act of sharing in the Loughborough Circuit will be at our open-air shared worship at Quorn on July 11th, 10-30 am. Chance to sing!
John Pugh (Rev)  Wymeswold Methodist