The Main Hall was built in 1922 as a Memorial to the fallen in the Great War with large single glazed windows and a high ceiling.  It has a spacious feel and the suspended wooden floor gives a good acoustic resonance. An extension was added in 2000 to provide excellent amenities including a lounge bar area, catering kitchen and ample toilets including disabled facilities. The first floor 'Jubilee room' is accessed by stairs and a platform lift, and benefits from good natural light and a view over the bowling green.
The management committee of volunteer 'trustees' runs the hall for the benefit of the community and strives to keep the premises in good condition with a focus on flexibility and safety. Over the years, fund raising events have enabled the purchase and installation of a wide range of equipment for the benefit of users.
Dimensions
The main hall measures 8m x 13.5m with a height of 4.5m.
The Stage
A traditional high, curtained stage occupies the north end the full width of the hall.
A flexible 'apron' or tiering can be created from up to 16 stage blocks (stored under the stage) each measure 120cm x 120cm, 40cm high and can be stacked up to 4 high. A further 12 'Quarter size' blocks 120cm x 60cm, 20cm high have recently been added to facilitate a fully stepped 'choral' arrangement.
Access to the stage is via a utility area with unisex toilet off and accessed from both the hall and the lobby, which doubles as a green room. For large productions, the first floor Jubilee room can be used for costumes, changing and make-up.
Lighting
The hall has low energy LED panels for general use and dimmable wall lights for 'theatre' use.
The stage has simple dimmable flood lights, and recently a number of theatre spotlights have been installed on a DMX controlled circuit (see separate sheet) to give a more versatile illumination of performers, a basic setup is available with the potential to expand for a full production.
Sound System
A basic PA system is available with CD/MP3/USB input, this is intended for announcements, 'background' backing music, sound effects, and multimedia this will NOT be suitable for 'live' music [a fully installed performance system is available to hire locally, tailored to performer's requirements, sound engineer available]
Seating
The hall can seat up to a maximum of 144 people.
There are 9 round (5ft) tables & 10 rectangular (6ft)  tables which seat 8 – 10 people.
We have recently purchased 6 (3ft) round tables which can accompany our existing smaller square tables.
The seating can be arranged in various formations:
Concert style – 12 rows of 12 with centre aisles.
A cabaret style plan accommodates 90 seated on 9 round tables of 10.
Ten rectangular tables can be spaced around a dance floor to seat 80 plus.
The double fire escape doors at the rear of the hall lead onto a slabbed patio/play area and must be kept clear at all times and closed during a performance to prevent noise nuisance to neighbours.
Lounge/Bar
There is a lounge/bar area with folding doors to the hall and serving hatch to the Kitchen which provides a useful area for serving food and drink it also gives access to a slabbed patio/play area to the south of the premises.
Premises licence
The hall 's licence requires that any activity cease at midnight (except for new year)
The hall's licence to sell alcohol is vested in the trustees to whom permission must be obtained to run a retail bar, there is a small fee for this towards our annual licence from the District Council.
Schedule of Lighting Equipment
Overview
The main hall has Low energy LED panels for general use and dimmable wall lights for 'theatre' use.
These are controlled from a switch panel on the left as you approach the main doors.
The stage has simple dimmable flood lights, and a number of theatre spotlights on a basic six channel dmx controller situated Stage right front.
Stage Lighting System
A DMX ring runs at high level around the hall and connects four Dimmer packs wired to 16A cable to separate MCB's isolated at the rear of stage left. Access points to the ring are situated at either side of the stage and to the rear of the hall. Further dimmer packs may be added, for example to provide controllable overhead lighting to the stage.
The basic controller comprises a 6 channel dimmer and master controller and is mounted on the wall stage right front.
Alternatively 8 no Led par 64 DMX controlled floodlights are fitted above the stage, giving full R G B colour wash.
Lanterns
First row – 2 Fresnel floods 500w
Middle Row – 8 Strand Prelude profile spots 500w, colour frames and limited gels available on request.
Back row – 2 Strand Spots 1000w
Dimmer packs
First Row – 2 Soundlab 4x1000w programmable start address
Second Row – 2 Soundlab 4x1000w programmable start address
Jubilee Room
First floor function room, measuring 7.5 x 9.7 metres. Access by stairs and a fully DDA compliant lift, the room benefits from a lot of natural light, however all windows and roof lights have blinds should you need a 'black out' situation for presentations etc.
The room also has a small kitchenette (approximately 3 x 4 metres) and there is a first floor toilet.
The room has collapsible tables and stacking chairs and can be configured in a number of different layouts, and has a capacity of up to 60 people.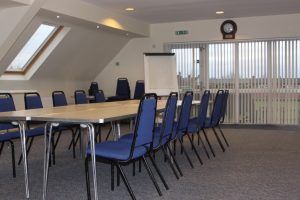 Small Meeting Room
Ground floor meeting room adjacent to the main entrance, measures 2.8 x 3.75 metres and accommodates a meeting for eight people comfortably around a rectangular meeting table (more chairs are available if required) plus flip charts etc.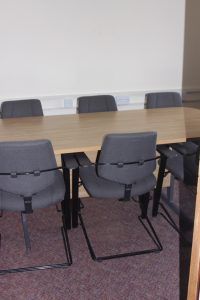 Main Kitchen
Ground floor, full stainless steel catering kitchen with current hygiene certificate, ideal if you are using an external caterer for your event. Room measures 4.75 x 3.75 metres.